Jungle Island
is the first world of
Super Monkey Ball Adventure
.
List of Missions
Edit
Missing Tootoot
Edit
Talking to Dada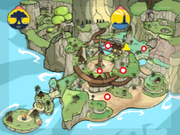 at the beginning of the game starts this mission. He has lost his daughter, Tootoot, after she was scared by the flying glider. He suggests that she accidentally hid under somebody's top hat, sending the player out to look for her.
The player needs to locate five monkeys wearing top hats and bump into them with decent speed to knock the hat off. Once the player has hit all five monkeys, Tootoot will pop out, and the player will be awarded with seven Joy units.
Ad blocker interference detected!
Wikia is a free-to-use site that makes money from advertising. We have a modified experience for viewers using ad blockers

Wikia is not accessible if you've made further modifications. Remove the custom ad blocker rule(s) and the page will load as expected.