Moonhaven is the Second or Third World in Super Monkey Ball Adventure.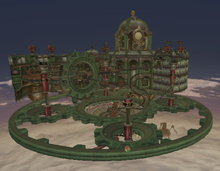 Description
Edit
This World is a 19th century city in the sky.
Missions
Edit
Main Area
Pick up the banana peels (Requires Stickyball)
Activate the four dynamos
Deliver the oil balloons (Requires Scalarball)
Bring Little'uns to springs (Requires 60% joy)
Water Automaton
Give Makmak Bananas
Thaw the pumps (Requires Woodball)
Keep the flames active (Requires Woodball)
Air Automaton
Take a picture
Fix the leaking air
Press three buttons
Save the children
Fire Automaton
Find the toolbox
Deliver the mail balloon
Carry the fire to the top
Feed the Fire Automaton
Give Si'mian five balloons
Ad blocker interference detected!
Wikia is a free-to-use site that makes money from advertising. We have a modified experience for viewers using ad blockers

Wikia is not accessible if you've made further modifications. Remove the custom ad blocker rule(s) and the page will load as expected.