Seesaw Bridges is a stage in story mode and a stage in advanced
Goals:
Blue Goal: To get to this goal, rush through all of the seesaw bridges, (including the last one) in order to get to the goal, you need enough speed when you speed through, because if you're too slow, then the bridge will seesaw and then will make you fall off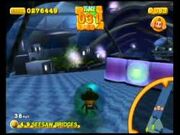 Ad blocker interference detected!
Wikia is a free-to-use site that makes money from advertising. We have a modified experience for viewers using ad blockers

Wikia is not accessible if you've made further modifications. Remove the custom ad blocker rule(s) and the page will load as expected.