Super Monkey Ball: Tip 'n Tilt is a game released for mobile phones on January 30, 2007. In this game, you start from the top of the screen and try to make your way to a goal at the bottom of the screen. You use the directional pad on the phone to get to your goal via a series of tipping and tilting platforms. AiAi, MeeMee, Baby, and GonGon are all playable. This is a mini version of the Mini Game Seesaw Ball from Super Monkey Ball: Banana Blitz.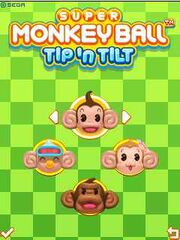 Ad blocker interference detected!
Wikia is a free-to-use site that makes money from advertising. We have a modified experience for viewers using ad blockers

Wikia is not accessible if you've made further modifications. Remove the custom ad blocker rule(s) and the page will load as expected.