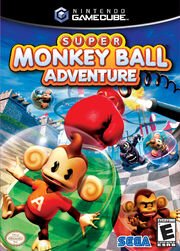 Super Monkey Ball Adventure
is the seventh game in the
Super Monkey Ball series
. It was developed by Traveler's Tales, published by
Sega
, and was released for Nintendo GameCube, PS2, and PSP.
The game differs from the original Super Monkey Ball in terms of gameplay. It is less oriented toward floors, instead having a story mode focused on plot, missions, and actions.
According to Sega, this game was an attempt to make an adventure game with Super Monkey Ball characters. While the floors are considered decent, whether or not the "adventure" attempt suceeded is debatable (See "Reception" section).
Game Modes
Edit
Story/Adventure Mode
Edit
AiAi and friends must travel through 4 different worlds by completing missions and exploring the area around them to bring happiness back to the kingdoms of Monkitropolis and Kongri-la. Throughout, they also need to complete some traditional Monkey Ball levels to unlock certain areas.
Challenge Mode
Edit
Challenge Mode returns, but now has much more difficult levels. The worlds are much simpler and recycle music from previous games, but still follow the traditional Monkey Ball formula.
Party Games
Edit
Party Games also return, along with some extra ones like Cannon. The player can play as several NPCs from Story Mode by buying them from Shop Monkeys. Extra difficulty levels can also be bought from Story Mode.
Reception
Edit
Super Monkey Ball Adventure received negative reviews by critics due to confusion of mission goals in story mode, the lack of character control (causing a lot of falls, especially in water), long loading screens, and time wasting winches and elevators. SMBA obtained a ranking of 0 in Rotten Tomatoes's video game section, Nintendo Power gave it a 5.5 out of 10 rating in it, along with other sources, claiming is was the worst game in the Super Monkey Ball series, X-Play gave it a 1 out of 5 However, the game's floors were praised as well as the game's soundtrack.
This is the only multiplatform Super Monkey Ball game to have a portable release, as this game had an unknown release on the PSP.
Unlike Super Monkey Ball 1 & 2, this game was not developed by Amusement Vision due to its merging with Sega. Instead, it was created with Traveler's Tales, which had created some of the LEGO games.
The PSP version of the game contains a new difficulty mode (Exclusive mode) containing 15 new stages.
Along with having a speedometer, Adventure also includes an altimeter.
This is the last Super Monkey Ball game to have MeeMee wearing a flower on her skirt and the "G" on GonGon's shirt being yellow.
Ad blocker interference detected!
Wikia is a free-to-use site that makes money from advertising. We have a modified experience for viewers using ad blockers

Wikia is not accessible if you've made further modifications. Remove the custom ad blocker rule(s) and the page will load as expected.